You can place an order or request a quote for an order through our Request a Quote form.
Once you have confirmed your order, we will send an invoice via PayPal, which is payable with a credit card, with or without a PayPal account.
Our workshop is located in Royalston, Massachusetts, approximately 2 hours North-West of Boston. 
Poplar and Basswood have similar structural stability, strength, fine grain, and warp resistance. Basswood is softer than Poplar, more akin to Pine in hardness. On average, Basswood is 8% - 10% lighter in weight than Poplar. In the past, rough Poplar lumber was the more economical option but due to recent lumber price fluctuations both woods are now the same cost. The color of Poplar is cooler overall, with a green-ish tone. Basswood has a warm, more reddish tone.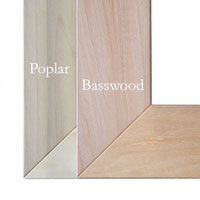 Our custom stretchers are shipped in boxes as unassembled bars via UPS. For larger stretchers that may be longer than the maximum package size allowed by UPS, we can personally deliver to the New England and New York regions. If you order assembled, stretched and/or primed canvases, they will be personally delivered by us. 
Step-by-step assembly instructions for DoubWorks Stretchers
How To Assemble DoubWorks Stretchers.pdf
Adobe Acrobat Document
49.9 KB
Absolutely! We offer canvas Stretching & Priming Services using our selection of certified Belgian Linens or our #10 or #12 Cotton Duck, and Golden acrylic gesso.  Please visit our Stretching & Priming page for details on these services.
Yes! We make every order from rough lumber so each bar is custom cut to any length you need. 
If your canvas loosens after you've made your painting, our stretchers are able to deal with that situation. The mitered double mortise and tenon joinery - held together with friction - can be expanded using the included keys. These keys go into the small square openings in the joinery of the bars and braces and can be tapped with a hammer to spread the joint, thus tightening the canvas.
A keyable stretcher allows you to re-tension your canvas. All the joints of our keyable stretchers are expandable with the supplied wedges, or keys. When needed, the keys are tapped into the joints, causing them to expand and thus tighten the canvas. We find this type of traditional joinery to be superior when compared with various other mechanisms used to re-tension canvas. Unlike mass produced stretcher bars, our bars are handcrafted to be straight. The mortise and tenon joinery is designed with substantial thickness, which adds strength to the finished stretcher and, most importantly, allows the stretcher to retain its strength when the joints are expanded.
We use Tulip-poplar (Liriodendron tulipifera L.) and American Basswood (Tilia Americana), which are hardwoods. Poplar is a bit stronger than pine, a bit harder than pine, but weighs about the same. Poplar also has great dimensional stability, as evidenced by its use for interior casework in fine furniture for centuries. Poplar and Basswood have similar structural stability, strength, fine grain, and warp resistance. Basswood is softer than Poplar, more akin to Pine in hardness. On average, Basswood is 8% - 10% lighter in weight than Poplar.  Poplar grows on the East coast, relatively close to our shop, which cuts down on the distance the wood has to travel for its end use. It is a relatively fast-growing tree that grows tall and straight. Poplar's relative proximity to our shop make it an environmentally friendly choice for us and its fast growth make it the best choice as a renewable resource.
All wood moves with changes in humidity, regardless of the species of wood or where it has come from. The trick is to find a wood with the qualities that are needed. Species selection is the first important step in making a stable object. The next important step is wood selection within that species, which involves selecting wood with straight and stable grain.

At DoubWorks we use two species of wood that have minimal seasonal movement yet still has the other characteristics that are needed for a stretcher bar - strength and bending resistance. If a stretcher bar has a spiral to its grain the expansion and contraction of the wood due to changing humidity can cause the bar to twist. This twisting is the reason for what is referred to as "warping," where three corners of the frame touch the wall and one corner pulls away from the wall.

This particular problem is not caused by a lack of internal bracing. The primary function of internal bracing is to resist bending of the bar due to the tension of the canvas. Bending can also occur due to the seasonal movement issue mentioned above. For example, wood grain swirling around a knot in the middle of a bar can cause it to bend with humidity changes.
So is it possible for DoubWorks stretchers to warp? The answer is yes, it's possible for any wood to warp, but due to our care in species and grain selection and our in-house milling process that produces dead-straight bars, our stretcher bars are much less likely to move.
Our 1.5" Original Profile poplar stretchers weigh approx. 0.75 lbs. per foot. For example, a 36" x 48" stretcher would weigh about 10 lbs. The Basswood equivalent stretcher would weigh 8%-10% less.
You are welcome to pick up your order at our workshop in Royalston, Massachusetts. Let us know your pick-up preference when placing your order.
We deliver orders for $1.10/mile round trip from Royalston, Massachusetts to New England and the New York region. 
Yep. All right here in our workshop.
Please let us know if you have any questions and we'll get back to you shortly!